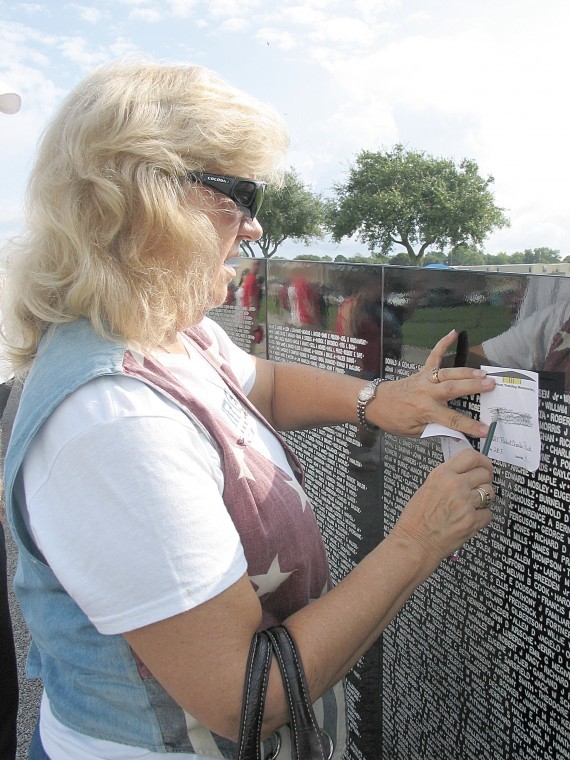 Remembering A Classmate
Anita Lyons of Houston traveled to El Campo to visit the Wall. She found the name of a high school friend, Sgt. Robert Charles Rudd, whose name is on the Wall. Here she does a paper rub as a keepsake.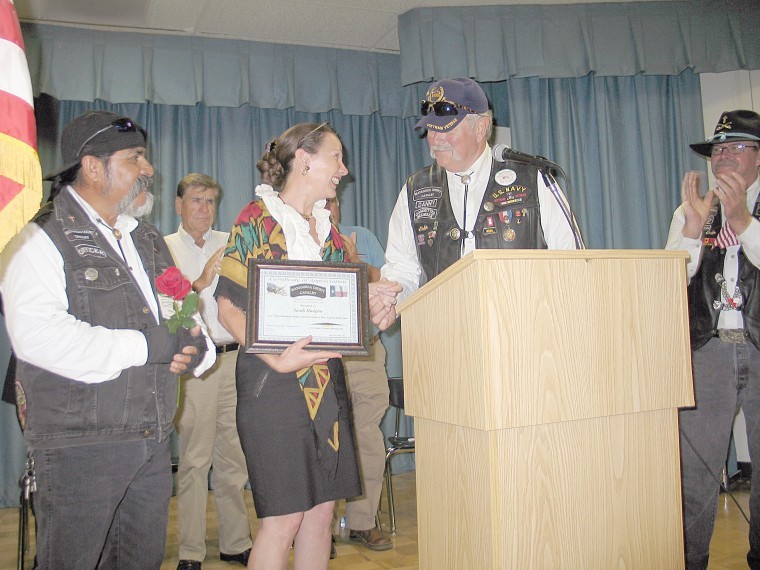 Organizing Efforts Recognized
Sarah Hudgins, county organizer for the Vietnam Traveling Memorial Wall, was presented a plaque Saturday, July 14, for her efforts in bringing the Wall to El Campo. Making the presentation is Danny Lee, a member of the Matagorda County Cavalry, which escorted the Wall from Rosenberg to its final resting place on Blossom Meyer Street.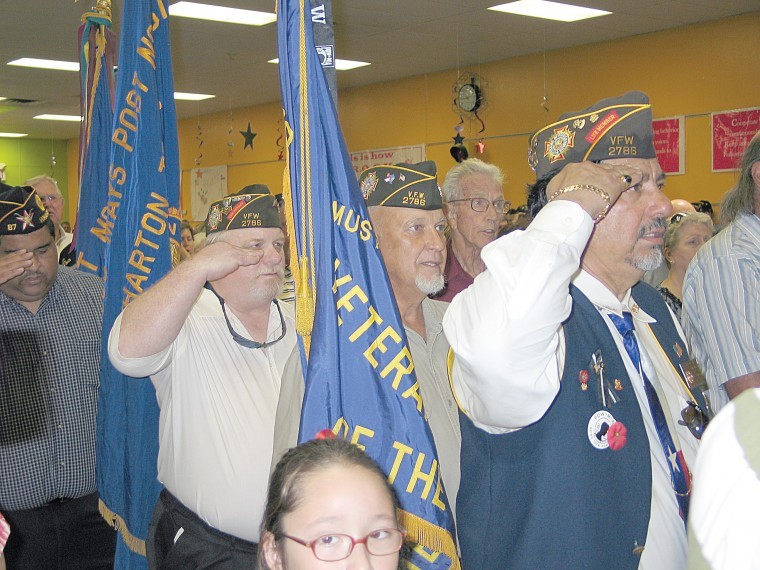 Standing At Attention
Members of the VFW Post 2786 post the colors during Saturday morning's program honoring Vietnam veterans. At front is Oscar Ocanas.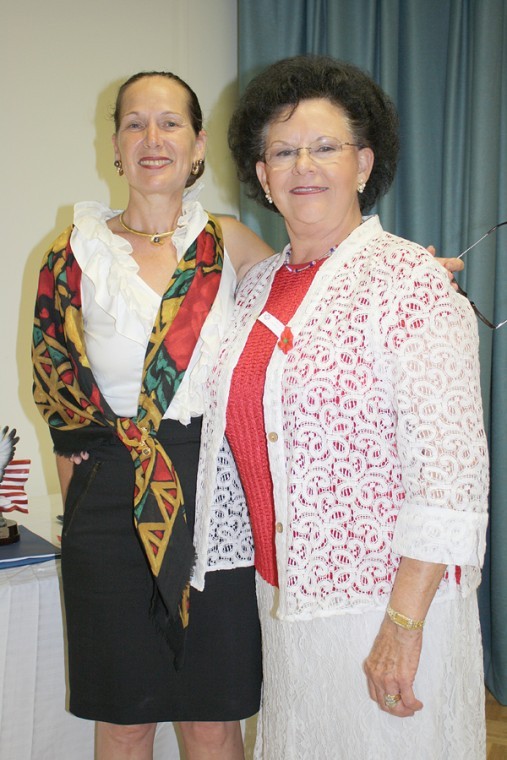 Volunteers Bring Wall To EC
Sarah Hudgins and Patty Jensen (l-r) were the main organizers for the Vietnam Traveling Memorial Wall while it was in El Campo for a week. Hudgins was the county organizer and Jensen planned and oversaw the events.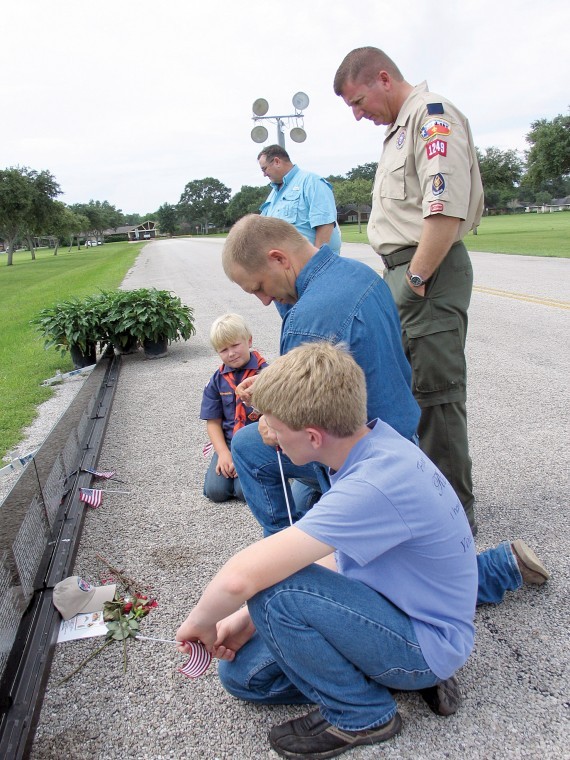 Paying Their Respects
A.J. Kresta and son Isaac of El Campo (at front) visit the Vietnam Traveling Memorial Wall to pay their respects to WO1 Tommie Allen Rolf, whose name is on the Wall. Rolf's sister is Kathleen Appling, formerly of El Campo.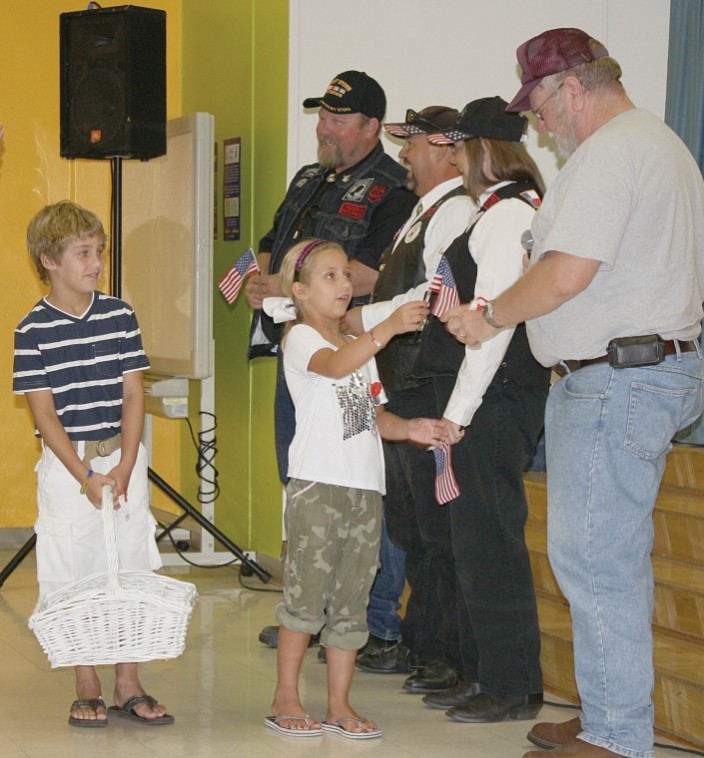 Saying Thanks
Volunteers Jackson and Brianna Jensen pass out American flags to veterans during programs held in their honor while the Wall was in El Campo. They are the children of Brian and Stephanie Jensen and grandchildren of Patty Jensen, who served as event coordinator for the Wall, while Sarah Hudgins was the county organizer.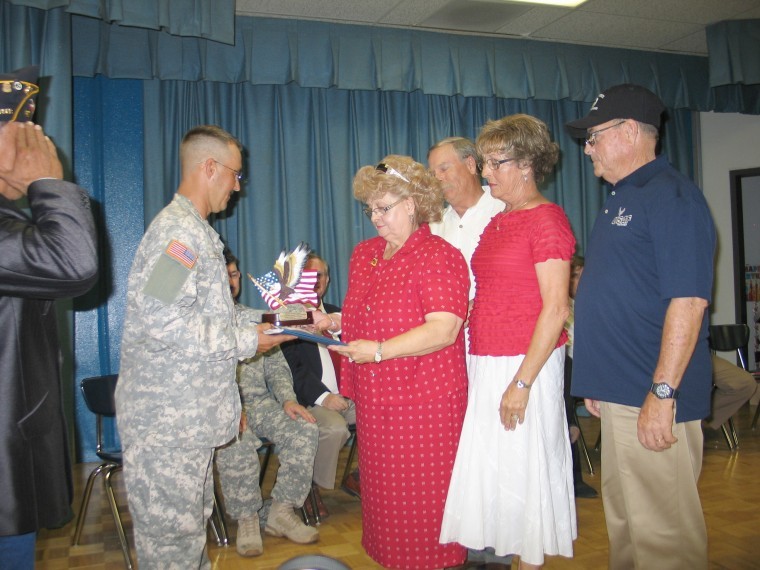 Dornak Family Recognized
The family of 1st Lt. Leonard Edward Dornak, U.S. Marine Corps, accepts a memorial statue bearing his name during a special program for Vietnam veterans Saturday at Northside Cafeteria. His sisters, Helen Dornak Blankenburg and Mary Ann Ermis (l-r) are two of the family accepting the award.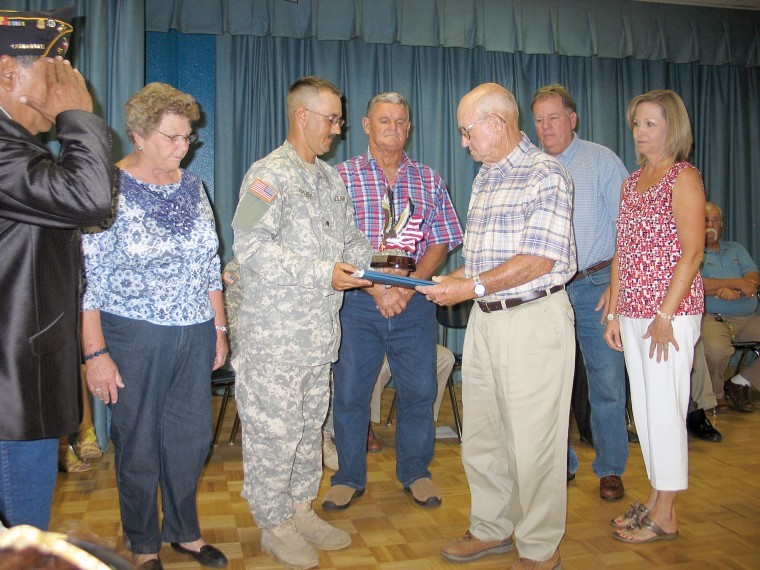 Mican Relatives Receive Award
The family of SP4 Allen Stanley Mican, U.S. Army, receive the eagle-American flag statue bearing his name, just as it also appears on the Vietnam Traveling Memorial Wall. Family members are (l-r) Barbara Krasucky Socha and Albert Socha of El Campo, Leroy Mican of Wharton, his brother; and Jim Calhoun and Susan Schomberg Freese of Wharton. Presenting the award is SPC Edward Chelbek of the Roy P. Benavidez National Guard Armory in El Campo.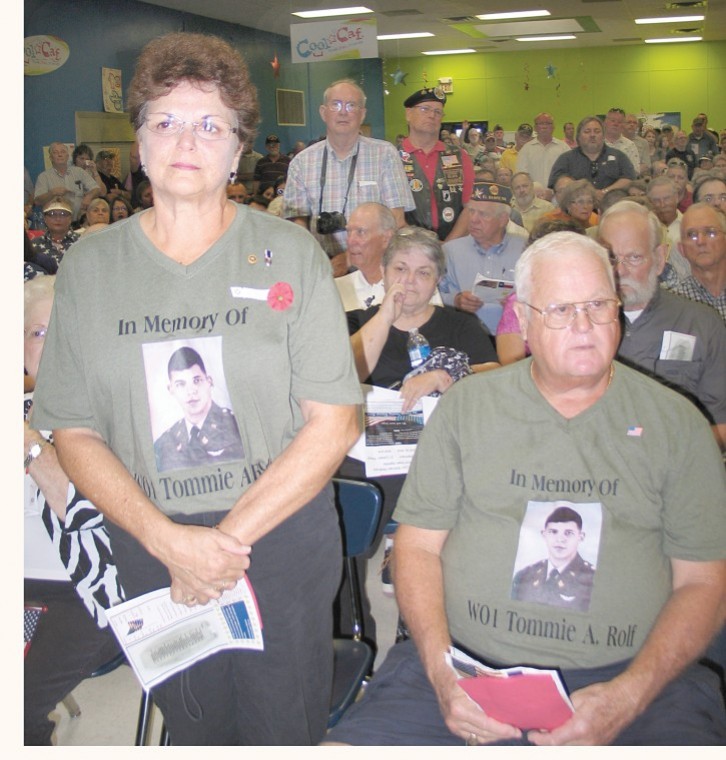 Standing For Those We've Lost
Kathleen Appling, formerly of El Campo, stands up during the Vietnam Veterans program Saturday, remembering her brother, WO1 Tommie A. Rolf, who lost his life in Vietnam. Seated is her husband Steve. Others also stood as they remembered loved ones and friends who died during the Vietnam War. Rolf was one of the 22 from Wharton County whose name is on the Wall.